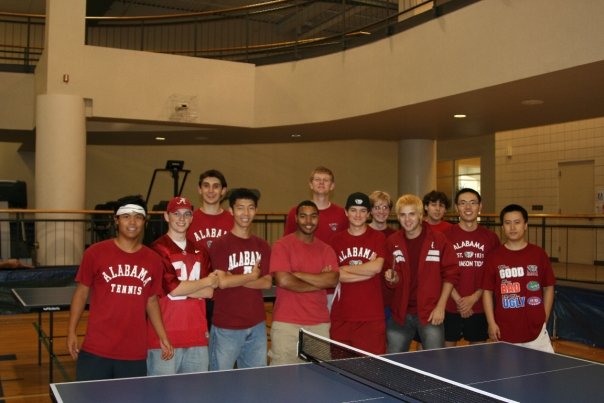 Alabama Table Tennis Association is a Sport Club meant to allow members to further develop their knowledge of and skills in Table Tennis while enjoying the sport. It is open to students (undergraduate and graduate) and faculty of the university.
How to Get Involved:  No tryouts needed. All skill levels welcome.
Upper limit to regular members: ~35 (We have 8 tables).
The club is ultimately for the joy of the game, although our best members compete as a team against other southern universities.
Contact:  Alabama Table Tennis Association
Club Email:  alabamapong@gmail.com
Club Website:
Club Facebook:
Club Twitter:
Club Instagram:
Club Type:  CoEd
Roster Size:  Up to 35 members with up to 4 members on each the A & B travel teams.
Competitive Season:  Fall, Spring
Practice Location:  Student Recreation Center – South Gym
Home Event Location:  Student Recreation Center – South Gym
Practice Times:  2 Times a Week, each at 2.5 hours
Opponents:  Auburn, Mississippi State, Mississippi College, Georgia, Georgia Tech
Governing Body:  National Collegiate Table Tennis Association (NCTTA)
League:  South Region – Georgia Division
Estimated Fall Dues:  $20
Estimated Spring Dues:  $20
Club Classification:  Recreational (Compete, but the focus is to have fun)
Club Accomplishments:
Club Member Accomplishments: