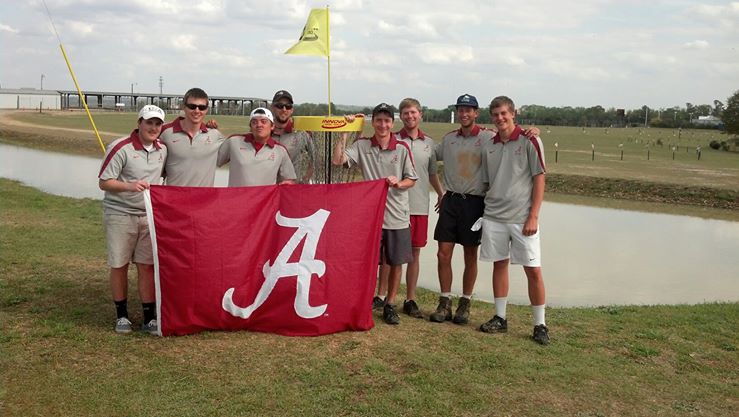 The Alabama Disc Golf Team is made up of University Students who share a passion for Disc Golf. We regularly travel around the South East and compete against other schools in our conference. The team, along with a few other universities, is working hard to create a tournament series among colleges to ultimately compete for a national title.  Alabama is one out of four universities that has competed for the national title every year.
The Alabama Disc Golf Team is also partnered with the Tuscaloosa Disc Golf Club to promote the growing sport of Disc Golf in Tuscaloosa. The groups work together to improve the course at Bowers Park and bring Disc Golf activities, such as tournaments, to our community.
Practicing and Coaching Sessions
Practices are held on Fridays and Sundays. The team will work with our coach as well as local pros on technique and scenarios. Come out and play a friendly round with the team and local pros. Anyone interested in attending a practice or needs any help contact us at alabamadiscgolf@gmail.com.
Directions to Bowers Park
Our local course is at Bowers Park. To get there from campus, go South on Hackberry Ln. Shortly after crossing 15th St., stay left to get on Hargrove Rd. Stay on Hargrove Rd. (cross McFarland Blvd.). At the third light after McFarland, you will see a Citgo gas station. Stay right and the entrance to the park is a half mile on your right. Once in the park, follow the one way signs to the right and go around the ball fields. The first tee is on the opposite side of the ball fields from the Hargrove Road entrance.
For more information about disc golf, visit the Professional Disc Golf Association website at www.pdga.com.
The PDGA provides a course directory to help you find disc golf courses close to you at https://www.pdga.com/course-directory.
Contact Information
President: Matt McCullough
Vice President: Joseph Sutton
Secretary: Nick Erny
Treasurer: TJ Hand
SEC National Governing Body: