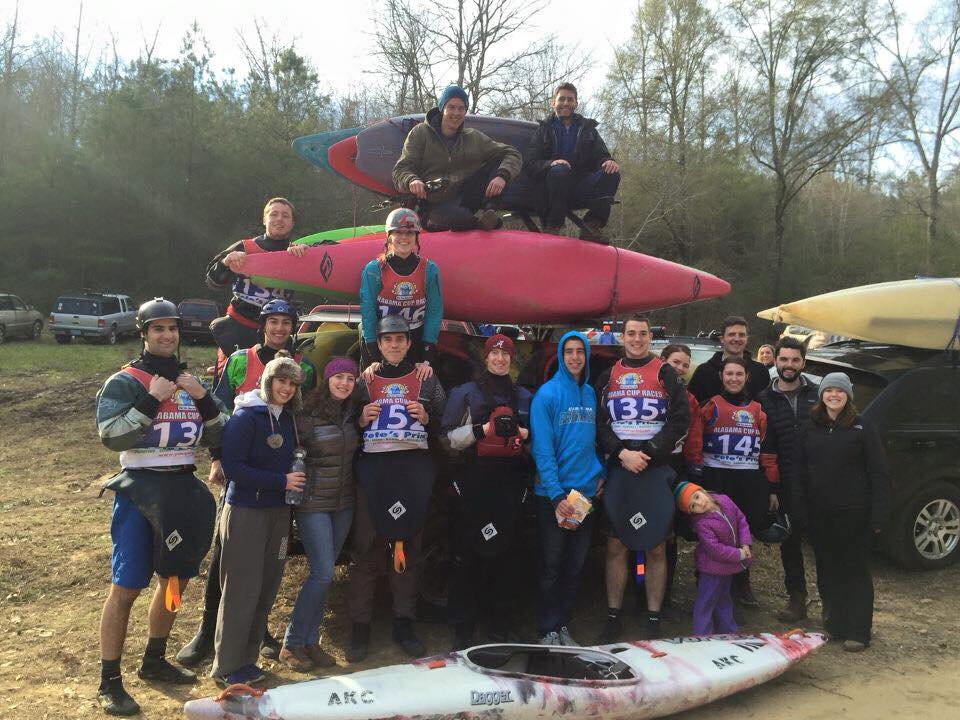 The Alabama Kayak Club is a University Sport Club that consists of experienced and developing whitewater kayakers. The purpose of the club is to provide a community for experienced kayakers as well as a resource for beginners to become competent whitewater paddlers. We compete in four races each season, in which club members are encouraged to participate. The races are both local and national level competitions including events such as slalom, downriver, and boatercross. Often known as AKC, the Alabama Kayak Club is a well established group within the local paddling community.
DISCLAIMER: This is a whitewater specific club! We do not sea kayak or take kayaking trips on flat water. Whitewater kayaks are very different from traditional recreation or sea kayaks and require a higher level of skill and physical stamina to maneuver. Whitewater kayaking can be very dangerous! Please only come to practice if you are interested in paddling whitewater and believe that you have the physical and mental ability to do so.
Contact Information
President: Justin Magrath
Vice President: Daniel Stroupe
Treasurer: Luke Danko
Secretary: Sudarsan Murali
Advisor: Rainer Schad

Sign up
We use an email list to communicate with prospective members each year. Most of our prospective members sign up for the list at Get On Board Day in the fall semester. If you are interested in learning more about the club, email club Kayak Club President Justin Magrath at: jwmagrath@crimson.ua.edu and put "Club Membership" in the subject line.
Note: Individuals involved with the club are either considered full time members or prospective members. Signing up for the email list and coming to practice qualifies you as a "prospective member." Because we aim to develop our new recruits before the spring paddling season, inexperienced prospective members are chosen for membership in the fall semester by an application process. Memberships are generally not granted to inexperienced paddlers later in the school year. However, contact the club president if you wish to join after the application process. Requests will be dealt with on a case by case basis and will depend on availability and experience of the individual.
Roll Practice
The Kayak Club meets once a week to have roll practice at either Manderson Landing on the Black Warrior River or at the UA Aquatic Center. The specific time and location of the practices will be announced via our email list. Prospective members, without their own gear, are subject to a "gear usage fee" of $5 per practice. If a prospective member later joins the club as a full time member, past fees paid will be applied towards club dues.
* The weekly roll practices are intended for club members and prospective members only. Prospective members who demonstrate the willingness to advance their skills each week at practice have a much better chance of obtaining a full club membership.
Trips
The Kayak Club offers trips to its members throughout the year. Most trips are during the spring semester due to local river levels. Students wanting to participate in these trips must attend the weekly roll sessions and demonstrate the skills necessary to run the rivers. Trips will be announced via the club email list and are subject to change at any moment due to constantly changing weather conditions.  Prospective members without their own gear are subject to a $10 "gear use fee" for trips.